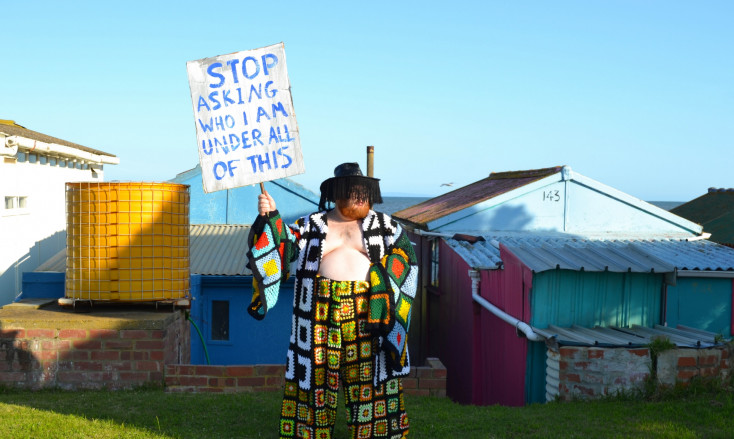 Opening: Wed 18 Jan 2023, 6.30-8.30pm
Exhibition dates: Thur 19 Jan – Sun 19 Mar, 2023
Connor Ovenden-Shaw, Also Known as Foot, is a non-binary queer artist based on Wadawurrung land in Melbourne's outer west.  Working within textile, photography and performance they are known for their unique and absurdist take on gender identity, sustainability and beauty standards.
CONTENT WARNING: Queer, Fat, Sexy critically examines the artists' enduring challenges that inform their art making. Through the mediums of photography, textile, sculpture and video we witness Connor explore, grapple and command topics such as power and vulnerability, rejection and reclamation, and community and isolation. 
In this exhibition we are presented with what 'queer' means to the artist and how they process and respond with what is regularly granted as 'normal, that the journey is non-linear and ongoing, and that this journey is in fact an art form itself. 
Walk a Meter in my Dress workshop
Like the phrase "walk a mile in my shoes" Connor invites you to step into a new world for a moment and experience their textile creations for yourself. Just like the world is not designed for queer people or fat bodies- these clothes are not designed for you. Experience the magic of Connors textile creations, and the dissonance of having to navigate a space and an outft that was not designed with you in mind. Evoking the childhood days of playful identity exploration and yet bringing home the deeper message of Connors work, that they have had to create and claim their own space of belonging in the world.
Saturday 11 February, 2 – 4pm
Wyndham Art Gallery
Bookings encouraged. Afternoon tea provided. Just bring yourself.
Image: Connor Ovenden-Shaw, Self Proclaimed Enigma, 2022, C-Type Photograph. Image courtesy of the artist.
Date and time

-
Online

No
Location

177 Watton Street, Werribee, VIC 3030
Organiser

Wyndham City - Arts and Culture
Contact
Cost

FREE