Date
Time
Location

Cherry Street Car Park, Corner of Kelly Street and Cherry Street, Werribee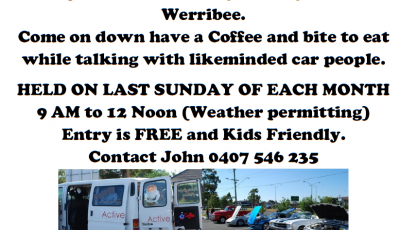 Come along and display your vehicle 25 year or older (Cars and Bikes) FREE in a casual atmosphere and chat to like minded individuals about all things automotive.
Sausage Sizzle and Coffee Van onsite to purchase food to sustain you while walking around looking at vehicles on display.
Entrants not required to remain for whole time and can enjoy our event them cruise off to something else. 
Car Clubs invited to attend and display your Club's Vehicles, in a central location, no trophies, just a bunch of Guys and Girls displaying their pride and joy.