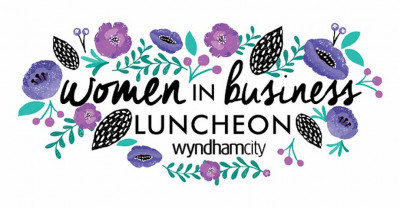 The annual Women In Business Luncheon brings together Wyndham's Women In Business to hear from inspiring keynote speakers whilst enjoying one of Wyndham's local event venues.
The feedback from previous Women In Business events has exceeded expectations with guests finding the event as an opportunity to hear from inspirational guest speakers in their own backyard and making new business connections through the networking opportunities the event offers.
The 2021 Women In Business Luncheon will be taking place on Wednesday 15th September 12pm – 2.30pm at Holiday Inn, Werribee
Guests will be treated to an insightful keynote speech from Chris MacGregor, Owner Operator of MacGregor Logistics, the luncheon will also see a panel of local Wyndham Business women.
We understand that on the rare occasion last minute circumstances can prevent attendance, however we respectfully request you give due consideration to your attendance before registering, an empty seat is a missed opportunity for another Wyndham Business person.
If you would like further information and to be kept up to date with Women In Business opportunities, complete our Women in Business Enquiry Form.
Date and time
Online

No
Location

Holiday Inn, 22 Synnot St, Werribee VIC
Organiser

Wyndham City Economic Development Unit
Contact
Cost

Free