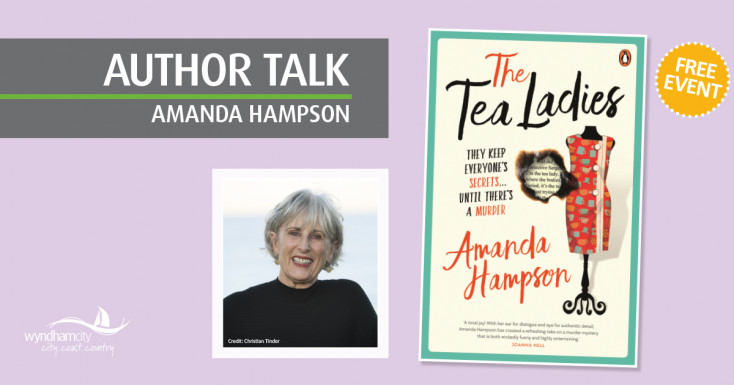 Come along and hear bestselling author Amanda Hampson discuss her latest novel, The Tea Ladies. 
The Tea Ladies is a wickedly witty cosy crime novel set in Sydney in the swinging sixties, ideal for fans of The Thursday Murder Club series.
In Sydney, 1965, at Empire Fashionwear, upstairs are upstairs, downstairs are downstairs, and the tea ladies see it all. But times are changing and there's murder afoot!
Book signing after the talk. Books will be available to purchase on the night from our partners, Dymocks Point Cook.
Bookings required.
About the Book:
They keep everyone's secrets, until there's a murder...
Sydney, 1965: After a chance encounter with a stranger, tea ladies Hazel, Betty and Irene become accidental sleuths, stumbling into a world of ruthless crooks and racketeers in search of a young woman believed to be in danger.
In the meantime, Hazel's job at Empire Fashionwear is in jeopardy. The firm has turned out the same frocks and blouses for the past twenty years and when the mini-skirt bursts onto the scene, it rocks the rag trade to its foundations. War breaks out between departments and it falls to Hazel, the quiet diplomat, to broker peace and save the firm.
When there is a murder in the building, the tea ladies draw on their wider network and put themselves in danger as they piece together clues that connect the murder to a nearby arson and a kidnapping. But if there's one thing tea ladies can handle, it's hot water.
About Amanda Hampson:
Amanda Hampson grew up in rural New Zealand. She spent her early twenties travelling, finally settling in Australia in 1979 where she now lives in Sydney's Northern Beaches. Writing professionally for more than 20 years, she is the author of two non-fiction books, numerous articles and novels The Olive Sisters, Two for the Road, The French Perfumer, The Yellow Villa, Sixty Summers and Lovebirds.
This Library program/event is being administered by Wyndham City Council using an event booking platform provided by a third party, EventBrite. Any personal information you submit when registering will be stored and processed by EventBrite in accordance with its Privacy Policy. Please note that EventBrite is a US based organisation, and your data will be held in US servers located outside of Australia. By registering for the program/event, you are agreeing to EventBrite's Privacy Policy.
Date and time
Online

No
Location

1-21 Cheetham Street
Point Cook
VIC 3030
Organiser

Wyndham City Libraries
Contact

03 9742 7123
Cost

FREE