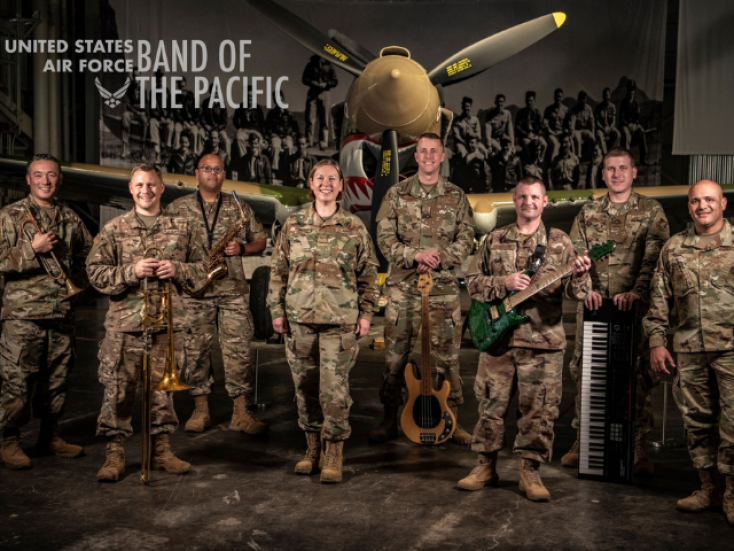 The Air Force Big Band is the Royal Australian Air Force's 17-piece Sing and Jazz ensemble. The Air Force Big Band promotes the Air Force and its values through performances at major community festivals, public events, schools, and formal Defence Force functions.
The big band has a strong military heritage drawn from the big band "Swing" era of the 1940s when the Big Band Swing became the musical backdrop that symbolised the allied forces of WWII, lifting morale and entertaining the troops throughout the war. The ensemble's diverse repertoire includes traditional big band swing, concert jazz, and original compositions and arrangements by band members.
Hana Hou is the commercial popular music ensemble of the United States Air Force Band of the Pacific. This dynamic group is comprised of highly skilled Airman musicians who perform classic rock, R&B, and Top 40 hits, as well as local Hawaiian favourites.
Their high-energy performances assist in building partnerships with local and foreign communities, enhancing troop morale, increasing recruiting efforts, and inspiring patriotism through music. With an energetic rhythm section supporting two stellar vocalists and a top-notch horn section, Hana Hou's engaging and dynamic performances have connected with large audiences throughout the IndoPacific.
Coming to the evening show? Why not package this with our Wyndham Cultural Centre x Rosana Pre-Show Dining package. This includes a 2 course meal at the beautiful local bar & bistro! Visit this link to find out more: https://www.opentable.com/booking/experiences-availability?rid=159230&restref=159230&experienceId=126119
Date and time
Online

No
Location

177 Watton Street, Werribee, VIC 3030
Organiser

Wyndham Cultural Centre
Contact

Ph (03) 8734 6000
Email boxoffice@wyndham.vic.gov.au
Cost

$10