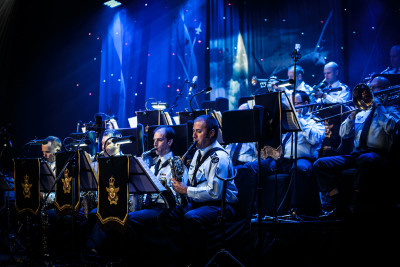 Come celebrate the 100-year anniversary of the Royal Australian Air Force at Wyndham Cultural Centre! The Air Force band is recognised as a world-class military band, with a proud history of service to the Royal Australian Air Force and the Australian community.
The band's mission is to enhance the image and culture of the Air Force through music and ceremony. It represents Air Force on occasions of national celebration and remembrance, at community festivals, and street parades. The Air Force Band has also represented Australia in cultural events overseas, including ANZAC Day commemorations at Gallipoli and international military tattoos in the United Kingdom, New Zealand, Tonga and South Korea.
The band's talented musicians were brought together to create a musical powerhouse that is quickly becoming a prominent part of the entertainment landscape.
Date and time
Online

No
Location

177 Watton Street
Werribee
VIC 3030
Organiser

Wyndham Cultural Centre
Contact

boxoffice@wyndham.vic.gov.au or 1300 156 557
Cost

Tickets only $10 and on sale now!