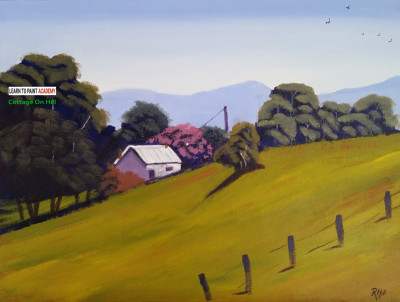 Learn To Paint With The Moore Method Of Painting
Subject:  Cottage On Hill In The Morning Light
In this workshop you will learn to paint using The Moore Method of Painting from The Learn To Paint Academy. The Moore Method of Painting is designed for absolute beginners and is all about simplicity and focuses on 3 main steps to complete a painting, 3 main colours, and 3 brushes.
I will guide you step-by-step and even if you have never picked up a brush before you will learn alot of the basics of good landscape painting and have a painting that you are happy with that will amaze your friends and family.
These workshops will be held on Thursdays weekly in line with School Term 2 beginning 22nd April and ending on 24th June using a different subject for each workshop.
Age: Adults 16+ For all the details and tickets click on the link for Eventbrite to register.
Date and time
Online

No
Location

153 Saltwater Promenade
Point Cook
VIC 3030
Organiser

Rhonda Hill Art
Contact

Email: rhondahillart2020@gmail.com
Cost

$100.00 p/p *Fees Apply