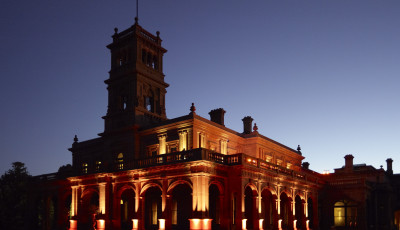 As wonderful as the Mansion is by day, at night it transforms into a stunning theatrical setting which you are about to experience...
"What Was That?" is set in the 19th century.  It is based on the true story of the Chirnside family.  Brothers, Thomas and Andrew Chirnside, who came out from Scotland to Australia in 1839.
Told by two fictitious characters; Maggie, the head maid and Mr. Duncan, the butler, you will be transported to another time.
It is July 1908 and visitors, the mistress, Mary Chirnside, has died tragically only three weeks ago.  Since then there have been many unusual occurrences in the house. Despite these circumstances, the only two remaining servants, Maggie and Mr. Duncan have tried to remain positive.  They are awaiting the arrival of their new masters, who have purchased the property.