Address

Werribee River, Watton Street, Werribee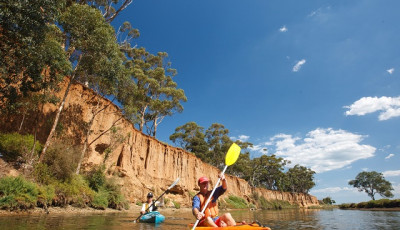 The Werribee River completes a journey of approximately 110 kms. The Werribee River begins as a small creek in the Wombat State Forest, it flows through Ballan and Bacchus Marsh, where it meets the Lerderderg River.
The Werribee River continues until its waters are held back by the Exford Weir creating the Melton Reservoir and continues south flowing gently to Port Philip Bay.
Things to do:
Exploring the river is a favourite pastime for Wyndham residents and visitors alike
Shared cycling and walking trails along the river provide the perfect opportunity to explore this magnificent river, whilst exercising in our great outdoors
Watch for a variety of birds that utilise the woodland, wetlands and riparian habitats
Canoe or Kayak the Werribee River. Designated canoe launching facilities are located at the Werribee South Boat Ramp and Riverbend Historical Park
Fishing is a popular activity along the Werribee River with anglers dropping a line in many well known fishing spots
Enjoy a picnic
Enjoy the views over the Werribee River, the K Road cliffs and surrounding landscapes.
Werribee River can be visited at different locations:
Watton Street, Werribee (Chirnside Park or Wyndham Park)
Riverbend Historical Park
K Road Cliffs, Werribee South
Werribee River Park: Follow New Farm Road through the Western Treatment Plant, over the Princes Freeway, and turn left at the end of the road into a new road which will lead you to a small car park above the river. Gates at the entrance to New Farm Road are opened daily from 6am to 9pm.
Werribee River Walk Maps
Werribee River Park

This new 260 hectare park is located on the west bank of the Werribee and runs south of the Princes Freeway (Maltby Bypass) through to the mouth of the river at to Port Phillip Bay.  Explore the rich beauty of the Werribee River with its lush flora and abundance of fauna.

Enjoy the new picnic area or walk over the new footbridge over Werribee River to Werribee Park and investigate the historic gardens and mansion.

Look out for Swamp Harrier, Whistling Kite, Musk Duck and Latham's Snipe birds may be seen, along with more common species such as parrots and lorikeets or the threatened Growling Grass Frog.
Riverbend Historical Park

The Riverbend Historical Park is a reserve on the banks of the Werribee River. The park provides an enjoyable setting for a picnic or a leisurely stroll along the network of bike and walking trails. The parks provides electric BBQ, shade, seating and ample parking for a weekend gathering of family and friends

Less than 500m from the BBQ area is the Diversion Weir which was constructed in 1910 to supply water to the Werribee South market garden region.
Fauna and Flora

The Werribee River has a plethora of native flora and fauna that inhabit the river and its banks. The Werribee River is great for bird watching or general exploring but care needs to be taken. Recent sightings and surveys indicate the presence of:

Fauna - Platypus, Swamp Wallaby, Ringtail Possum, Brushtail Possum, Eastern Snake, Necked Turtle, Short-finnel Eel, Tupong, Swift Parrot, Common Bronzewing, White-striped Mastiff Bat, Cunningham's Skin, Southern Brown Tree Frog

Flora - Common New Holland Daisy, Hazel Pomaderris, Blue Box, Gold Dust Wattle, Prickly Currant Bush, Pale Fruit Ballar, Rock Correa