Address

Werribee Park Mansion,
K Road,
Werribee South
VIC 3030
Phone

13 1963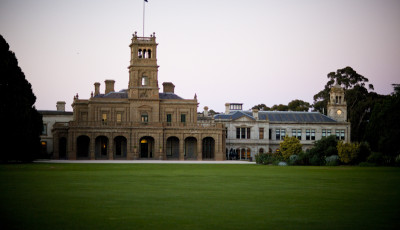 Rediscover a bygone era
Werribee Park is a significant cultural and heritage attraction offering an authentic insight into Australias richly diverse history. 
The centrepiece of this jewel in the West is a superbly restored 1870s Italianate Mansion, originally built by Scottish squatters Thomas and Andrew Chirnside.  Step back into a bygone era while admiring the beautifully restored rooms of the elaborate Mansion. Listen to the Chirnside family chatter with an extensive audio tour and be sure to visit May, an enthusiastic laundry maid with a tragic story to tell.
Explore ten hectares of exquisite formal gardens, a unique riverine area, and historical farm outbuildings.  Take a stroll through the contemporary sculpture walk, a unique outdoor exhibition that perfectly blends contemporary Australian sculpture with the natural environment. Or simply relax with a picnic, a coffee in thecafe/giftshop.
Other attractions at Werribee Park
Werribee Open Range Zoo: At the Werribee Open Range Zoo, you'll find an amazing array of animals living in over 200-hectares of open savanna.
Victorian State Rose Garden: The Victoria State Rose Garden displays 5,000 roses to perfection within four uniquely shaped designs.
Shadowfax Winery: Shadowfax's unique architecture reflects an attempt to create a harmony between the winery and its natural surroundings.
Werribee Park Golf Club: With breathtaking views of Werribee River and K Road Cliffs, Werribee Park Golf Club,  18 hole courses with and open design and strategically planted trees will even test the most professional
Mansion Hotel and Spa: Heavenly surrounds can only be completed by the best accommodation. For blissful rejuvenation and an ethereal escape, the Mansion Spa, offers a relaxation lounge and an exclusive range of beauty therapies to reinvigorate the mind, body and soul.
Werribee Park Shuttle

Save time, catch the Werribee Park Shuttle to experience Werribee's Open Range Zoo, The Mansion at Werribee Park, State Rose Garden, Mansion Hotel & Spa, Shadowfax Winery, RAAF Museum, National Equestrian Centre & Werribee Park Golf Club.

Shuttle departs Victorian Art Centre, 100 St Kilda Road, Melbourne at various times during the day.

For further information and to book visit http://werribeeparkshuttle.com.au/