Address

Victoria State Rose Garden, 206 K Road, Werribee South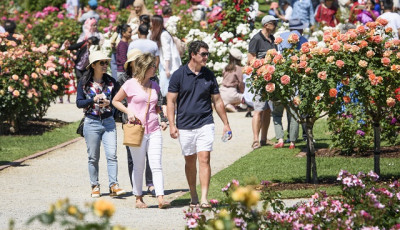 Located in prestigious grounds of Werribee Park, the Victoria State Rose Garden is an internationally acclaimed garden and is a winner of the World Federation of Rose Societies Award for Garden Excellence and was the first rose garden outside of Europe to receive this Award.
Spreading over 6 acres, the Rose Garden is separate from the main Werribee Mansion gardens by a heritage boarder featuring historical and varying roses from around the world.
The garden features a two theme display with a rose design; a Federation Leaf dedicated to Australian roses and the David Austin Bud showcasing roses of 46 cultivars and the garden pathways act as a rose "stem," leading from the Tudor Rose petals, to a "leaf" and a "rosebud."
With over 5000 roses on display in a feature design set in the shape of the Tudor Rose, the rose garden is a magnificent sight when in bloom from November to April.