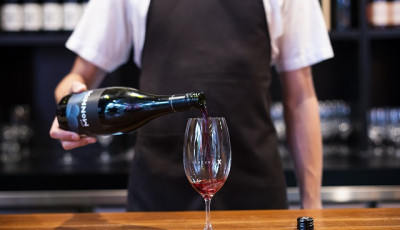 Contemporary in design and function, Shadowfax's unique architecture reflects an attempt to create a harmony between the winery and its natural surroundings.
Shadowfax's rusted sheet metal exterior and its terracotta interior evoke the best of our Australian wine heritage, yet the winery is a state-of-the art development.
Visitors are invited to taste the wines, purchase from the cellar door, indulge at the gourmet foodstore or take a leisurely stroll through the picturesque vineyard.
Shadowfax's varietal wines are derived from the best wine regions in Australia. Fruit comes from well-established vines and their distinctive characteristics are consistent from year to year. For its black label releases, Shadowfax selects exceptional parcels of fruit from single vineyards. These single vineyard wines are produced in very small quantity and are characterised by superb quality, complex structure and excellent cellaring potential.
Shadowfax is popular for its live Accoustic Jazz Sessions which are on every Saturday and Sunday. In the surrounds of a beautiful vineyard, why not enjoy a glass of wine and something delicious off the menu while listening to talented musicians