Address

1 Point Cook Homestead Road, Point Cook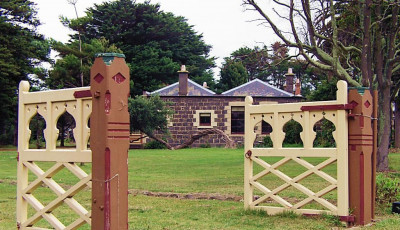 Please note: The Point Cook Homestead site, including the café, is currently closed to visitors. The Point Cook Coastal Park can still be accessed.
In 1839 a Scotsman named Thomas Chirnside arrived in Australia with nothing but "..the Bible given to him by his mother, a few hundred pounds from his father, great faith and boundless optimism."*
Together with his brother Andrew, he went on to build a hugely successful pastoral empire. In 1852, Thomas bought land in Point Cook and commenced construction of the elegant bluestone Point Cook Homestead.
Soon after the Homestead's completion in 1857, the brothers began work on the famous Mansion at Werribee Park, which became the home of Andrew and his wife Mary. Thomas, who remained a bachelor, often resided at the Point Cook Homestead, and in his absence, other members of the family used it as a holiday home.
The brothers had a deep interest in bloodstock and imported racehorses from Scotland and England and bred a number of Melbourne Cup, Caulfield Cup and Derby winners at the Point Cook Homestead stables.
*Excerpt from "Wool past the winning post - a history of the Chirnside family" by Heather Ronald.
Point Cook Homestead, 1 Point Cook Homestead Rd, Point Cook
Owner: Owner: State Government of Victoria
Managed by: Parks Victoria
Website: http://parkweb.vic.gov.au/explore/parks/point-cook-coastal-park
Enquiries: 13 19 63