Address

360 K Road, Werribee South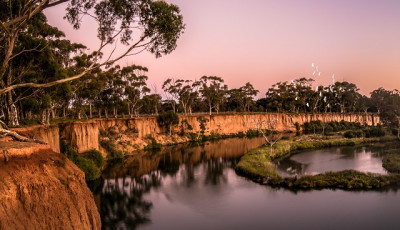 From the K Road Cliffs you can see the beginnings of the estuary of the Werribee River below. Here the river has cut down into the Werribee delta over the eons exposing the cliffs, creating a flood plain through which the river flows on its way to Port Phillip Bay six kilometres away at Werribee South.   
The cliffs are right on the western edge of superb irrigated farmland. Some good walks exist on the river with wildlife and great views in proximity to working farms and irrigation channels. 
Just over the meandering river you can see Parks Victoria's Werribee River Park, excised from Melbourne Water's fabulous Western Treatment Plant, known for the large part it plays in migratory birds conservation under the Ramsar Convention, the peaked outline of the You Yangs in the distance, and to the right is the Werribee Golf Course.  Further upriver is the Werribee Park Mansion and the Werribee Open Range Zoo. 
The traditional aboriginal owners called the river 'Werribee', meaning 'backbone'.  There would have been good estuary and freshwater fish to be caught, along with native animals such as wallaby and kangaroo, bush tucker and fresh water. There were birds too: Fairy Martins with their bottle shaped nests high in the cliffs made of mud carried in their beaks up from the river, Sharp-tailed Sandpipers which still come from Siberia to spend summer with us, Red-necked Avocets which are endemic to Australia, Spoonbills, Pelicans, Reed Warblers, Honeyeaters, the list goes on. 
There are exposed basalt rocks providing evidence of former volcanic ages. There are quartz rocks to be found here which were possibly carried down to the delta in flood time from far upstream. There are remains of fences, vehicle tracks and sugar gums providing evidence of early European farmers.