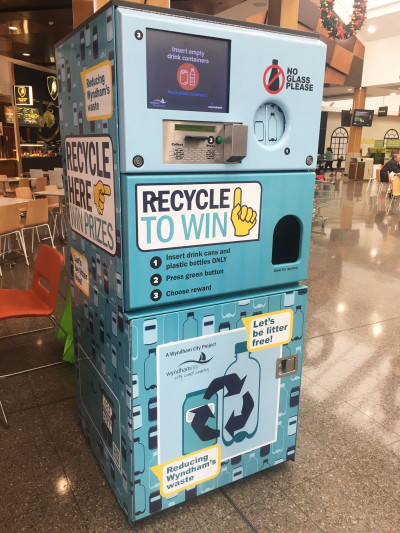 Wyndham City is excited to become the first Victorian Council to install reverse vending machines allowing you to recycle for rewards when you're out and about.
The machines aim to increase recycling and reduce the amount of plastic bottles and aluminium cans that are found littered around our City, particularly in our cherished nature reserves and waterways.
The innovative machines accept plastic bottles and aluminium cans and in return provide a range of incentive offers and prize draws.
The machines are in response to feedback received as part of consultation for the recently adopted Waste & Litter Strategy 2016-2040, which highlighted the communities desire to see a payback scheme for recyclables as well as increased measures to tackle litter locally.
How do the machines work?

It's simple; the machines work just like a normal vending machine – but in reverse!

Empty plastic bottles and aluminium cans can be placed into the machine which will then prompt the rewards options to appear on the machines display; from there it's as easy as choosing your desired reward and collecting the printed coupon.

For competition entries and instant incentives it's important that you hang onto your coupon in order to redeem your prize!
What can go into the machines?

The machines accept plastic bottles up to 2 litres in size and aluminium cans.

Bottles and cans must be empty & uncrushed – the machines will do the crushing for you! 
Where are the machines located?
Point Cook Town Centre (Food Court) – Main Street & Murnong Street, Point Cook
Aquapulse - 80-82 Derrimut Road, Hoppers Crossing 3029
Eagle Stadium – 35 Ballan Road, Werribee
Hoppers Crossing Shopping Centre, Old Geelong Road, Hoppers Crossing
What You Can Win
Rewards include discount offers for food and beverages, donations to Clean Up Australia, chances to win theatre, movie, local attraction and gym passes and memberships.
Or simply get some good karma for doing the right thing and recycling! 
Prize draws will take place quarterly, the more you recycle the more chances you have to win.
Congratulations to winners of the 3 x $100 Red Balloon Vouchers W James 3029, A Webster 3030 & A Macleod 3030
Win One Of 3 x $100 Wyndham Cultural Centre Gift Vouchers
Terms and Conditions

Terms and conditions for entry into the draw for a chance to win one of three $100 Wyndham Cultural Centre Gift Vouchers

This competition is run by Wyndham City Council ('Council') in collaboration with Envirobank in the state of Victoria, Australia only.

By entering the competition, you agree to accept these terms and conditions of entry ('conditions').  If your entry does not comply with these conditions, it will not be valid for entry into the draw.

Entry is restricted to residents of the Wyndham municipality who are aged 16 years or over.  If you are aged under 18 years, you must obtain your parent or guardian's consent to enter this competition.  Council may require you to provide proof of residency and/or age.  Council staff, Councillors and their immediate families are not eligible to enter.

To enter the competition you must complete and submit a valid entry form and include your coupon code at www.wyndham.vic.gov.au/recycletowin between 1 July 2018 and 30 September 2018.

Each valid entry will go into a draw to win one of three $100 Wyndham Cultural Centre Gift Vouchers ('prize').  Refer to Wyndham Cultural Centre's website http://www.wyncc.com.au/giftvoucher for their terms and conditions for redemption of gift vouchers.

Competition winners will be drawn on 2 October 2018 at Council offices and will be notified by telephone on the same day.

If a winner cannot be contacted by 12 October 2018, Council may opt to conduct a redraw and the next valid entry drawn will be the winner. 

If a prize has not been claimed by 2 November 2018 the winner will be deemed to have surrendered the prize and Council may opt to hold a further draw to award the unclaimed prize.

Council's decisions are final and no correspondence will be entered into.

Prizes are not transferable, exchangeable or redeemable for cash.

Council accepts no responsibility for late, lost, misdirected, invalid or corrupt entries.

Competition winners consent to the publication of their full name and suburb on Council's websites and/or social media pages for the purposes of publicising the win.

You agree to Council contacting you to invite you to be photographed, and if you agree to be photographed, you consent to any such photographs being published or otherwise used by Council for future promotional activities.

Privacy Statement

Your personal information is being collected by Council for the purpose of enabling you to enter this competition and will be disclosed to Council staff involved in the administration of the competition.  Your personal information will otherwise be handled in accordance with the Privacy and Data Protection Act 2014 and Council's privacy policy available at http://www.wyndham.vic.gov.au/aboutwyndham/wyndhamcity/customerservice/information/privacy_policy. 
Thanks for recycling using Wyndham City's reverse vending machines!  
For your chance to win one of three Wyndham Cultural Centre $100 gift vouchers please enter your details below:
Winners will be drawn on Tuesday, 2 October 2018, and competition winners will be notified by telephone.