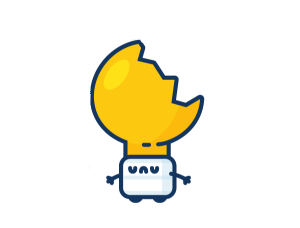 Take charge of your household recycling with our handy household guide. Get to know your soft plastics from your hard, and find out exactly what to do with light globes, batteries, CDs and mobile phones.
Download our handy household guide
Still stumped on a few items, or want a copy of the guide mailed out, email wastewise@wyndham.vic.gov.au.
It can be tricky can't it? To help us on this journey, we have a few pals we'd like you to meet.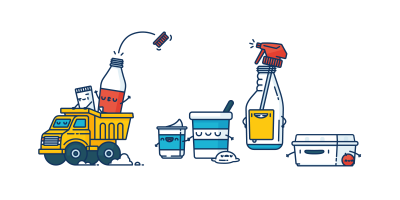 Hard Plastics
Its time to harden up, and get real about plastics recycling.
Accepted items for the recycling bin include biscuit & cake trays, bottle tops, cleaning bottles, deodorant cans, ice cream containers, insect spray bottles, medicine bottles, beauty containers, bottles, crockery, plastic plant pots, plastic toys (no batteries), punnets, shampoo & conditioner bottles, takeaway containers, tupperware & yogurt containers.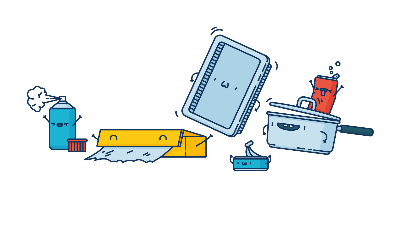 Metals
Take these metal heads out for a spin in your recycling bin!
Accepted items for the recycling bin include aerosol cans, spray cans (empty), aluminium cans, trays and foil, deodorant cans, foil lined oven trays, pots & pans & tin cans (including tuna, pet food, etc.).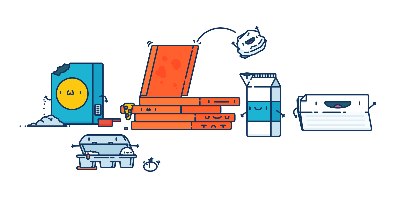 Paper and Cardboard
Welcome these treehuggers into your recycling bin
Accepted items for the recycling bin include advertising material, cereal & biscuit boxes, egg cartons, envelopes, greeting cards, magazines, milk cartons, newspaper, office paper, pizza boxes, takeaway containers, toilet rolls, washing powder boxes & wrapping paper.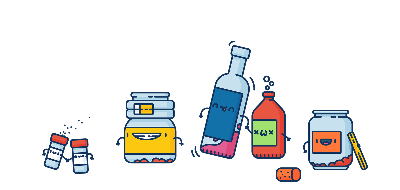 Glass
Think you feel bad after a few bottles? How about the planet? Remember to recycle right after a big night.
Accepted items for the recycling bin include bottles, glass (broken – wrap in newspaper) & jars (jam, coffee, sauce, etc.).  No broken window panes or bakeware (e.g. Pyrex) glass to be put into the recycling bin.

Garbage
Don't let these bad eggs lead your recyclables astray.
Accepted items for the garbage bin include bread bags, chip packets, cigarette butts, cling wrap, ceramic crockery (broken), coffee pods, dog poo, foam meat trays, food waste, nappies, plastic bags, polystyrene, pyrex, rubber, smoke alarms (no batteries), tissues & paper towel, toothpaste tubes, textiles (in bad condition) & wrappers.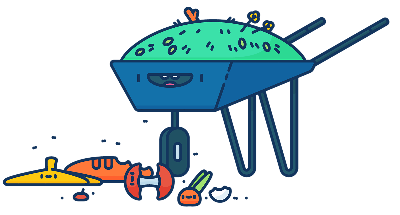 Green Waste
Fruit and vegetable scraps want in on the compost party.
Accepted items for the Green Waste bin include branches, fruit & vegetable scraps, grass, leaves & weeds.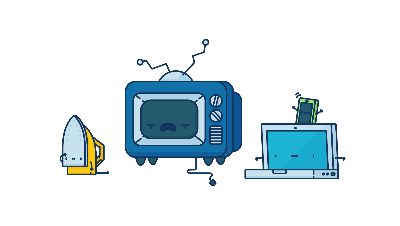 Electrical Waste
Everyone deserves a second chance. Add a little spark today.
Drop off your electrical waste in the appropriate container at the Transfer Station, 470 Wests Road, to have it recycled for free.
Accepted items for the Transfer Station include appliances, computers & accessories, electrical waste, printers & TVs.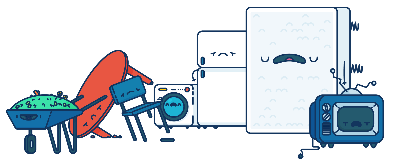 Hard Waste Collection
Broken, bulky items weighing you down? Schedule time for a little pick-me-up
Accepted items for Hard Waste pick up include electrical waste, furniture, green waste, mattresses, plastics & whitegoods.
Whether you own or rent, all Wyndham households are eligible for two free hard waste pick-ups each year. Book by calling 9742 0777 three weeks in advance.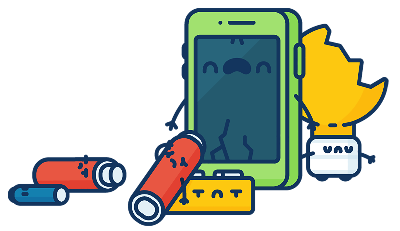 Community Recycling Stations
Lead the recycling charge in your household.
Find your closest Recycling Station
Accepted items for the Community Recycling Stations include batteries, CDs & DVDs, light globes, mobile phones & printer cartridges. There are 5 across the municipality.

Compost Bins & Worm Farms
Cut your garbage in half today.
Join Compost Revolution, and receive a discounted worm farm or compost bin delivered to your door. 
Accepted items include most fruit & vegetable scraps, newspaper & paper towel, egg shells, leaves, coffee grounds & tea bags.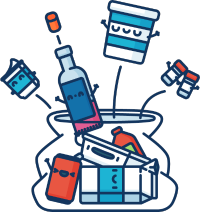 Set your recycling free!
If you put your recycling in plastic bags it will end up in landfill. Don't waste your efforts. Keep your recycling loose.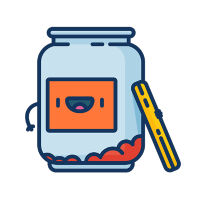 Don't sweat over the state of your recycling
You don't need to rinse your recycling, just clear items of food.
Set your recycling free!
Scrap that
Recycling in Wyndham