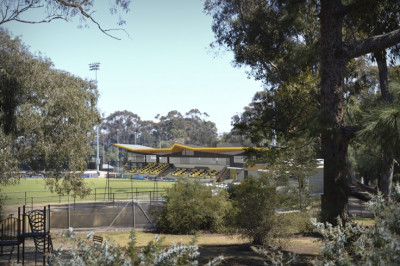 The $11.75mil Chirnside Park Hub Redevelopment will provide a high level sporting facility to support Werribee Football Club and Werribee Cricket Club pathway programs and a host venue for finals, one off major sporting events, community education programs and community festivals.
Features:
A district level sporting pavilion
Facilities for Women's Football
Sports based training spaces
New Grandstand
Commercial kitchen and cafe
Multi-purpose social, meeting and community spaces
Media rooms
Coaches spaces
Landscaping and car parking
Benefits:
Programs delivered by North Melbourne Football Club Huddle
Programs delivered by the Wyndham Community Education Centre
A fantastic community hub in the heart of Werribee alongside other Werribee City Centre developments
Redevelopment home base for Werribee Football Club and Werribee Cricket Club
Development hub for the delivery of AFL and cricket pathway programs
This is a project funded by Wyndham City, with support from the State and Federal Governments, Werribee Tigers, AFL and AFL Victoria.
Project Commencement: October 2016
Estimated Completion: April 2018
3D Artists Impressions
Floor Plans
Funding Partners

The funding partners for the Chirnside Park Hub Redevelopment Project include:

Wyndham City Council
Werribee Football Club
AFL
AFL Victoria
Victorian State Government
Australian Federal Government
Construction Update - August 2017

Structural steel complete.
First floor roof construction, to be completed by the end of August.
External brickwork has commenced from the CBD end of building, now a third complete.
Installation of stud walls and roughing in of services on ground floor, now 90% complete.
Secondary steel and framing of upstairs walls to commence during September.
Window installation to commence during September.
Construction Update - June 2017

Ground floor slab construction, inclusive of suspended and on ground slab sections have been completed.
Concrete block walls, columns, beams and the First Floor suspended slab and concrete grandstand terrace seating areas are scheduled to be completed by end of June 2017.
Structural steel deliveries have commenced with scheduled steel erection on the first floor to commence by end of June 2017.
Roof construction has been scheduled to commence in July 2017.
Installation of windows, doors and face brick work has been scheduled to commence early July 2017, with the building being watertight by the middle of August 2017.
Fire service lines, gas, and water tapping works are well underway.
Stormwater drainage construction inclusive of underground detention tank has been completed
Construction Update - March 2017

Preparation of the ground floor slab is  well underway with concrete pours scheduled to commence by end of this week (this will form part of the Away Change rooms and administration wing). 
Block work to sub-floor  of suspended ground floor slab is now 100% completed with 95% concrete fill to block work undertaken.
The on ground slab section (forming part of the Kiosk and public amenities) is underway with the installation of reinforcing steel well underway– this section is scheduled to be poured on second week of March. 
Concrete columns to the lower level (Home Gym and Home Warm-up zone) are also completed.
Stormwater drainage construction inclusive of an underground detention tank are underway with approximately 30% completed. 
Construction Update - December 2016

Temporary facilities completed with some minor items outstanding.  
Pavilion demolition works completed, and relocation and storage of the Grandstand complete.
Ground preparation works currently taking place for the commencement of pavilion in-ground services and slab works.
In ground works commenced for new services – sewer main connection and stormwater drainage.
Construction Update - November 2017

Roof and wrapping of first floor structure completed
Glazing continuing on oval side
Alcadex soffit lining well underway to the upper deck area and grandstand canopy
External exotic wall cladding underway
Ground floor plaster, villa board wall and ceiling linings completed
Ground floor tiling underway
Painting commenced to the away change room areas
Lift installed
First floor wall lining installed to 50%
First floor services installed.