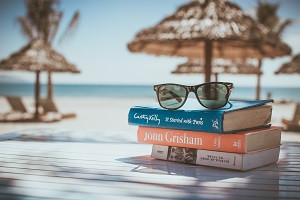 Explore the world of books this summer. Read a book in any format, share your title and a short review online to be in the running to win the major prize of an iPad mini. The more you read, the better your chances of winning! The competition runs 1 December 2017 to 31 January 2018.
The Adult Summer Reading Competition uses an online platform that allows you to list books, log activities and write reviews. The more that you read and review, the greater your chances of winning the major prize, an iPad mini. You can also win other prizes along the way by earning points from attending the programs listed online.
Not old enough to join this competition? There's a Teen Summer Read for people aged 12-18, or the Kids Summer Reading Club for people aged 5+. Join the Teen Summer Read online or sign up to the Kids Summer Reading Club at your local branch.
Privacy Information

Your personal information will be collected for the purposes of the Youth Summer Read and Adult Summer Reading Competition, as outlined in the Terms and Conditions of each competition. Council uses third-party software provided by Beanstack to run both competitions. Any personal information you submit when registering will be stored and processed by Beanstack in accordance with their Privacy Policy and Terms of Use. Please note that Beanstack is a U.S.-based organisation, and your data will be held in servers located outside of Australia if you choose to use the Beanstack service.

Your information will be accessible by Wyndham City Libraries staff to identify and communicate with you regarding registration and prizes, as well as book and event recommendations (should you choose to receive these via email).

If you have any questions regarding the above Privacy Statement please contact your local library/Council's Privacy Officer.

By entering the competition, you are agreeing to the Terms and Conditions for the competition, in addition to the Beanstack Privacy Policy and Terms of Use.
Terms and Conditions

All sections and information in this webpage form part of these Terms and Conditions. Participation in this competition is deemed acceptance of these Terms and Conditions on the part of the participant and their parent/guardian (where applicable). The Promoter is Wyndham City Council (ABN: 38 393 903 860), PO Box 197 Werribee.
The Adult Summer Reading Competition is open to individuals aged 19 and above.
The competition opens 12am (AEST) 1 December 2017 and closes 11.59pm (AEST) 31 January 2018.
Wyndham City Council employees are ineligible to enter the competition.
Wyndham City Council reserves the right, at any time, to verify the validity of entries and entrants and to disqualify any entrant who submits an entry that is not in accordance with these Terms and Conditions, or who tampers with the entry process. Errors and omissions will be accepted at Wyndham City Council's discretion. Failure by Wyndham City Council to enforce any of its rights at any stage does not constitute a waiver of those rights.
Any cost associated with accessing the promotional website is the entrant's responsibility and is dependent on the internet service provider used.
Wyndham City Council accepts no responsibility for late, lost, incomplete, incorrectly submitted, delayed, illegible, corrupted or misdirected entries, claims or correspondence, whether due to error, omission, alteration, tampering, deletion, theft, destruction, transmission interruption, communications failure or otherwise. Wyndham City Council is not liable for any consequences of user error including without limitation, costs incurred. 
Wyndham City Council will use third-party software provided by Beanstack to run the competition.
By entering the competition the entrant agrees to Beanstack's Terms & Conditions as outlined at: https://wyndhamcitylibraries.beanstack.org/terms_of_service
Any personal information submitted by entrants during registration will be stored and processed on Wyndham City Council's behalf and is subject to Beanstack's Privacy Policy as outlined at: https://wyndhamcitylibraries.beanstack.org/privacy
It is the responsibility of the entrants to ensure that their contact details are correct. Wyndham City Council will not be liable if it cannot contact any winner(s) because of any incorrect contact details provided to it by an entrant.
The Adult Summer Reading Competition prize winners will be chosen by Wyndham City Libraries' staff. The decisions made by staff are final and no correspondence will be entered into.
Winners will be notified via phone and/or email within 2 working days of the competition's closing date.
Prizes are non-negotiable.
If any prize is unavailable, Wyndham City Council reserves the right at its sole and absolute discretion to substitute the prize with a prize of equal value and/or specification of the equal prize.
Wyndham City Council reserves the right to select a new winner in the event of a winner being unable to satisfy these terms and conditions. Wyndham City Council will award the prize to the entry deemed to be the next best entry. The winner/s, if any, will be notified via phone and/or email.
Prizes are awarded subject to the standard terms and conditions of the individual prize and service providers.
If for any reason a winner does not take ownership of the prize by the time and date stipulated by Wyndham City Council, the prize will be forfeited.
Wyndham City Council, its affiliates and agents are not responsible in any way for the content or descriptions included by entrants, nor do they necessarily endorse the content or descriptions.
If the Adult Summer Reading Competition is interfered with in any way, or is not capable of being conducted as reasonably anticipated due to any reason beyond the reasonable control of Wyndham City Council, including but not limited to: technical difficulties, tampering, infection by computer virus or bug, bad weather or other acts of God, unauthorised intervention or fraud, or any other causes beyond the control of Wyndham City Council which corrupts or affects the administration, security, fairness, integrity or proper conduct of the competition, Wyndham City Council reserves the right, in its sole and absolute discretion, to the fullest extent permitted by law to (a) disqualify any entrant; (b) to modify, suspend, terminate or cancel the competition as appropriate.
Wyndham City Council will not be responsible for any act, omission, failure or delay not reasonably within its control.
Nothing in these terms and conditions limits, excludes or modifies or purports to limit, exclude or modify the statutory consumer guarantees as provided under the Competition and Consumer Act 2010, as well as any other implied warranties under the ASIC Act or similar consumer protection laws in the States and Territories of Australia ("Non-Excludable Guarantees").
Except for any liability that cannot by law be excluded, including the Non-Excludable Guarantees, Wyndham City Council (including its respective officers, employees and agents) is not responsible for and excludes all liability (including negligence) for any personal injury; or any loss or damage (including loss of opportunity) whether direct, indirect, special or consequential arising in any way from this competition, including but not limited to: (a) any technical difficulties or equipment malfunction (whether or not after their receipt by Wyndham City Council); (b) any theft, unauthorised access or third party interference; (c) any entry or prize claim that is late, lost, altered, damaged or misdirected (whether or not after their receipt by the Promoter) due to any reason beyond the reasonable control of Wyndham City Council; (d) any variation in prize value to that stated in these Terms and Conditions; (e) any tax liability incurred by a winner or entrant; (f) the acceptance and use of the prize by the entrant or any other person; (g) if this competition is cancelled, terminated, modified or suspended; (h) if an entrant is disqualified.