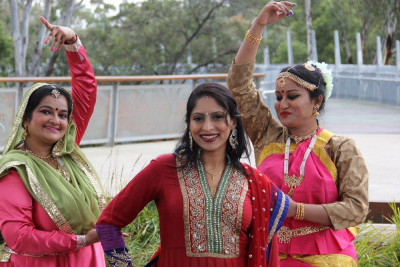 In December 2015 the State Government announced a commitment of $50,000 for a feasibility study into a potential Indian Cultural Precinct in Wyndham. The study will determine if an Indian Cultural Precinct would be viable in Wyndham and to determine the location and nature of such a precinct. The state government has indicated that $500,000 would be made available to contribute to the development of a cultural precinct in Wyndham. Similar cultural precinct funding has previously been used to enhance precincts such as Victoria Street Richmond, the Asian Gateway in Springvale, Eaton Mall in Oakleigh and the Afghan Bazaar in Dandenong.
As at the 2011 census, Wyndham was home to almost 11,000 people born in South Asia (about 6.7% of the population), including around 8,000 from India (5% of the population). In the period between 2006 and 2011, the Indian-born population in Wyndham had grown by more than 414%.
Indian culture is flourishing in Wyndham. It is home to a number of significant Indian cultural celebrations which draw an audience from across Wyndham. These include Wyndham Diwali, Holi Fest and the South Asian Food Festival. In 2015 for the first time, the Indian Film Festival of Melbourne held a number of showings here at the Wyndham Cultural, and a large T20 cricket league has strong participation from the whole South Asian community.
Indian and other South Asian community members have shown that they are keen to embrace Australian culture, but to also maintain a connection to their Indian culture for their families' sake, and to share their culture with the broader community.
Later this year Wyndham City will work with an independent consultant to begin conversations with the community. We will ask about:
What is the community's vision and aspirations for an Indian cultural precinct?
What is the most suitable location and form for an Indian cultural precinct in Wyndham?
What is the best way to ensure community continues to have a voice in the development of the precinct?
Keep up to date by providing your contact details below.