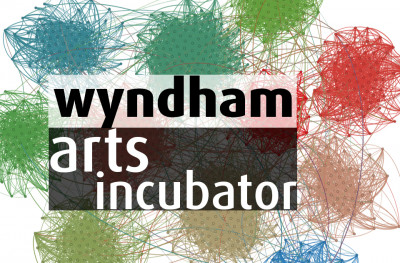 The Wyndham Arts Incubator is designed to seed artist-led projects, spaces and groups.
This program has been created in response to feedback from local artists that space, networks and opportunities to present work are key priorities for the ongoing development of the local creative industry.
The intention of this program is to seed artist-led projects that can become self-sustaining in the longer term. Participating artists are mentored in the development and delivery of incubator projects, and have access to marketing support.
Want to know more?
Wyndham Arts Incubator is located at Old Shire Offices in Werribee - on the Duncans Rd side.
Artists who wish to access the incubator spaces to work, run workshops, hold a pop-up shop or a meet up should get in touch with Wyndham City's Arts Development Officer, Bec Cole via bec.cole@wyndham.vic.gov.au or call 9742 0777.
Current Incubator Projects
Artful Healing

Aurora Van Mourik's Artful Healing workshops focus on inclusion, support, art skills development and friendship. 

Aurora has run workshops in portraiture, still life and art techniques all of which culminated in exhibitions at various venues including Western Hospital and local community centres.

The workshops highlighted participant's artistic development as well as a deeper understanding of their lived experience of mental illness and the benefits of creative expression as an outlet for respite and personal empowerment.

Artful Healing workshops are open to all levels of skill and experience - absolute beginners most welcome! Workshops happen each Thursday from 10am – 12pm. Contact Aurora to find out more 0431 037 911
Will Francis

Will aims to form a collective of like-minded people to learn how to produce small items using recycled plastics and 3D printing technology. The group will start from ground zero with a view of eventually building their own systems to print and recycle plastics.

Will is an accomplished jeweller, and will focus on producing wearable jewellery objects made from recycled plastics, which have been collected both from the home and from the broader environs of the community.

Participants will be learning together – sharing their knowledge and creating their own projects that will explore the possibilities of this exciting new technology.
Folky Fridays

Steph Payne will expand the already established Wyndukes ukulele program to a broader concept, Folky Fridays. A new program of sessions intended to provide support, encouragement and opportunities for local music enthusiasts to meet and jam together, practice and develop skills and to ultimately build a folk music community in Wyndham. Fridays at the Old Shire Offices will be a hub for community music making. 

Currently scheduled meet ups include a songwriting collective and a regular all-in jam session for any and every instrument. Keep your eye on the Wyndukes Facebook page for up to date listings of sessions and future developments, which may include open mic nights, instrumental workshops, small ensemble facilitating and collaborations with other art forms.

Phone: 0409 856 071

Email: songswerribee@gmail.com and wyndukes@gmail.com

Website: stephpayne.com.au and wyndukes.com.au
Caroline Esbenshade

Caroline invites you to channel your inner naturalist at one of her art workshops! Partnering with NatureWest and the Wyndham Arts Incubator Program, Caroline will be offering a series of workshops at the Natural History Centre for various ages.

Participants will tap into their creativity, develop art skills and learn about local flora & fauna all in a relaxed atmosphere at the NatureWest Natural History Centre. Caroline Esbenshade is an artist and Point Cook local.

When she's not in the studio she can be found by or in the ocean gathering inspiration to incorporate into her arts practice.
Samantha and Gordon Napier

Samantha and Gordon Napier will bring their experience in writing and filmmaking to the Movie Magic workshop.  They also bring their love of creating fun and entertaining movies and combine it with all the best things green screen have to offer.

The Movie Magic workshop will be an interactive hands-on school holiday workshop that will introduce and educate kids about the fun and technology behind making green screen movie magic.  Each child will be able to pick an individual trailer for them to star in, there will be a variety of stories and characters they can choose from and once the trailer for their movie is made they can take the disc home and share it with everyone.

Participants can look into the world of green screen technology, find out how it started and some examples of movies it has been used in.

They want kids to come to their workshops to have fun, to learn about filmmaking and leave feeling like a star.
Carolyn Warren-Langford

The Bead Project invites women to come together to make beads from clay. Each bead has the maker's palm print on one side and colour and texture on the other. When the beads are fired and glazed, one bead is returned to the maker and the other is used to create a long necklace to be exhibited later in 2016.

In the workshop, women have a space to ask questions and to share their resources – especially their knowledge and connections to women's health.

Carolyn will expand The Bead Project as well as offering 'Playing with Clay Days' as many people who have participated in the workshop would love to learn more about clay and to get their hands dirty! 

Keep up to date with The Bead Project on Facebook
The Literary Journal

2016 will see the birth of a new publication that will give opportunities to Victorian young people to be heavily involved in the management of a creative arts anthology. This is a publication that will eventually offer publishing opportunities to artists of all kinds nation-wide, but will be edited and run by young people.
 
The team is currently made up of predominately Wyndham Community and Education Centre students--both past and present--and overlooked by two Wyndham CEC teachers with writing and arts backgrounds. The group meet each week to develop their skills and to build the publication.

With a willingness to publish pieces in most genres of the creative arts, our aim is to collect high quality works that explore all aspects of existence and art. We also have a deep interest in investigating where these two art forms intersect and how the visual arts can best be integrated with textual elements and other experimentation.