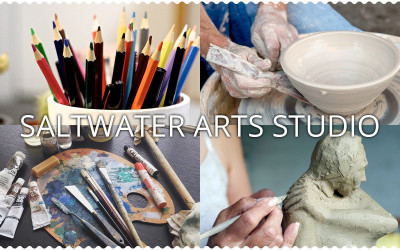 Saltwater Art Studio, located at Saltwater Community Centre is an artist-led space that offers a diverse quarterly program of workshops, arts experiences and open studio days. 
Immerse yourself in art-making with guidance from professional artists who are passionate about their practice and committed to offering you a welcoming and enjoyable space to try something new or develop your skills.
The current program includes drawing, oil painting, hand-built and wheel-thrown ceramics plus studio access and access to the on-site kiln.
Supported by Wyndham City Arts & Culture #deepwest
For information on the art studio activities visit the website or get in touch via social media.
https://www.saltwaterartstudio.net/
https://www.instagram.com/saltwaterartstudio/
https://www.facebook.com/Saltwater-Art-Studio-199410377302369/