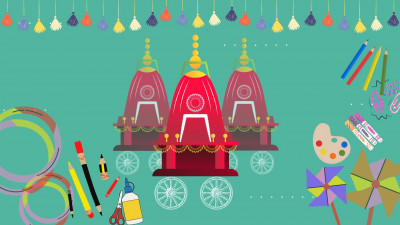 Madhubani Dutta is an emerging digital photography and visual arts creative based in Wyndham. She experiments with various provocations around mental health and art activism. She was part of the community arts project in Tarneit earlier this year called Hello Togetherness involving local kids and families. They are currently working out of the Dianella Community Centre as a resident artist.
Ratha Yatra is a popular festival where chariots of various types and dimensions adorn the streets in India on a specific day in the months of July/August. Traditionally, these huge chariots (rathas) carry popular gods and goddesses from one place to another and the mini versions are drawn across streets by kids to replicate the holy journey in the big chariots. Through her research and workshops, Madhubani aims to popularise this beautiful tradition among community members through creative exchanges.
The workshops below are a part of an artist's residency at the Centre.
Have you ever heard of a Ratha? Resident artist Madhubani Dutta will show you the steps to make your versions of mini-Rathas (or chariots) for your favourite people or characters including making the structure, the design, the wheels, and the characters you are wanting to transport. This is a 2-weeks activity and at the end of the workshops you will have your own unique chariot to take home.