Date
Time
Location

Watton St Plaza, 28 Watton Street, Werribee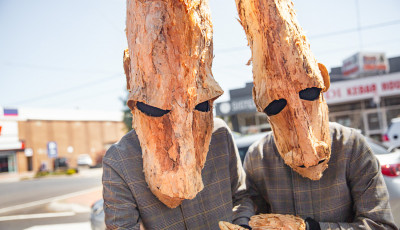 Step into another world…
For eleven days the suburban arcade of Watton Plaza will be transformed into a dream-like world filled with curious characters and unexpected spaces, where the familiar becomes strange and a trip to the shops a full-blown adventure.
The floor beneath your feet, the walls...even the windows are full of surprises!
Inside you'll find a pop-up gallery celebrating local artists and an eclectic program of live music and performances to while away those summer days.
Led by two of Australia's leading public place artists, Neil Thomas and David Wells, RED ARCADE is full of wonder and fun, a taste of the surreal in our suburban streets.
Proudly brought to you by Wyndham City's Arts and Culture program.
#deepwest
Monday to Thursday: 11am - 5pm
Friday to Sunday: 11am - 7pm
Performance Windows

Performance Windows featuring Neil Thomas, David Wells, Yumi Umiumare, Lynne Santos, Jo Lange, Craig Gunguta, Amarachi Okorom and an array of community participants including Samarpan Theatrical Society, Shivarpanam Academy of Performing Art and many more.

Performance Window opening times are:

Wednesdays and Thursdays, 12pm – 2pm
Fridays and Saturdays, 3pm – 6:30pm
Sunday, 3pm - 5pm
Author Talks

Western suburbs icon Bruno Lettieri is treating Red Arcaders to some exclusive chats with some fabulous authors:

Bruno Lettieri In Conversation with Alice Pung

Thursday 29 November, 12:30pm - 1:30pm FREE

Spaces limited – registrations essential

Bruno Lettieri In Conversation with Sofie Laguna

Monday 3 December, 12:30pm - 1:30pm FREE

Spaces limited – registrations essential

Bruno Lettieri In Conversation with Maxine Beneba Clarke

Tuesday 4 December, 12:30pm - 1:30pm

Spaces limited – registrations essential
Film Screenings

Elio's Table Werribee South Market Gardens 1940 – 1950

Thursday 29 November, 6:30pm – 9pm

Talent Show presented by Stir it Up, cohealth Arts Generator

Thursday 6 December, 6:30pm - 9pm
Live Music

Red Arcade official unofficial ordinary extraordinary Opening

Featuring Avalanche, Paisley & Plaid, Tawanda & Friends

Friday 30 November 6pm – 8:30pm

Unstrung Music Showcase + Jessica Paige

Saturday 1 December 3.30pm - 6pm

New Way Finders + GRID series

Music and performance featuring Gordon Koang

Sunday 2 December 3pm - 5pm

Talented buskers and maestro musicians

Friday 7 December 4:30pm – 6:30pm

The finest in jazz with AJP Trio and tunes from local DJ Avalanche

Saturday 8 December 3:30pm – 5:30pm

Music for kids and their families by local musician wonders

Sunday 9 December 2:30pm – 5pm
Workshops
Community Gallery

Open daily from 11am

Come and experience an eclectic taste of Wyndham's community at their arty best. Featuring works from Michelle Ripari, Angela Hickey, The Arty Farty Group, Truganina South Primary, Melissa Murphy-Vella and many more. Surprises in every corner and something for everyone