Date
Time
Location

Werribee City Centre, Station Place, Werribee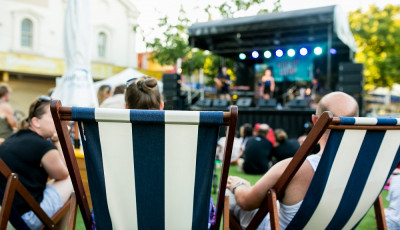 Soak up those summer days and nights at Werribee City Centre's free Pop up Park from 18 January – 24 February 2019 in Station Place.
Kate Ceberano will open the free Friday Night Live concert series, followed by winner of The Voice Sam Perry, Nicky Bomba's Bustamento, bluesman Ash Grunwald, folk duo The Audreys and legendary rockers, CHOIRBOYS.
On Saturdays the WBTA will host a Makers Market before the park is transformed into an Outdoor Cinema complete with beanbags and popcorn for the evening!
Street Food Sundays will return with the opportunity to try a different cuisine every Sunday from 12pm – 5pm along with live music, traditional dancing and themed kids craft.
On weekdays, the Pop Up Park will be buzzing with free community workshops and classes including free weekly Hey Dee Ho music and sports activities for the littlies, art classes, rhyme time, lunchtime music, pilates, tai chi and come and try sport sessions.
A green city oasis, with comfy deckchairs, umbrellas and lawn games, the Pop Up Park is your must-do this summer – perfect for lunch breaks, coffee dates and all-ages, family fun.
Enjoy the deckchairs and lawn games daily:
Monday – Thursday 9am – 5pm
Friday 9am – 10pm
Saturday 9am – 7pm
Sunday 10am – 5pm
A free Wyndham City event.
Transport and Parking

Transport and Parking

Live or work locally? Enjoy the summer weather and walk to the Pop Up Park.

Taxi

The designated Taxi Zone in Station Place will operate as normal.

Public Transport

The Pop Up Park is located next to Werribee Train Station, making it easy to get there via train or bus.

Car Parking

Free car parking is close by, with three hour parking in Riverbend and Cherry Street Car Park, two hour parking in Troup/Woolworths Car Park, all day parking in West End Car Park and one hour parking on Watton Street. Note that time limits do not apply after 5.30pm.

During the six weeks of the Pop Up Park, vehicle access to Station Place will remain open with one-way traffic flow. A reduced number of parks will be available during this time.

Parking in Station Place will also be temporarily changed from 1 hour to 30 minutes to assist customers with parking turnover during the period.
Event Seating, Weather, Alcohol and other FAQs

Event Seating

The Pop Up Park has a limited number of deck chairs and beanbags provided. Friday Night Live and the Outdoor Cinema sessions may attract large crowds, with visitors encouraged to bring along their picnic blankets or low-backed chairs or settle in on the grass (please try to avoid high-backed camp chairs if you can help it).

Seating is not allocated so please keep your neighbours and their view in mind and help us keep the vibe of this free event fun and friendly.

During Friday Night Live concerts, you'll find there's a whole lot of fun and dancing front of stage, especially as the night wears on, with people able to move in and out of the space. You may like to think about what you're keen to do during the night, when you settle in.

Weather

Friday Night Live, Outdoor Cinema and Street Food Sundays are all-weather events and will go ahead in most weather conditions. Cancellations will only be considered if the conditions present a risk to the safety of visitors and staff and will be published via www.facebook/werribeecitycentre.

Remember to bring sunscreen, a hat, cold water and something to keep you warm at night when the temperature drops. There is a free drinking water fountain in Station Place.

Event Umbrellas

The large park umbrellas are fixed into the ground to provide stable and secure shade during the Pop Up Park season and remain in place during large events.

During Friday Night Live concerts, umbrellas will be tied down before the headline act, to keep you shaded for as long as possible and maximise viewing.

Toilets

From Friday through to Sunday there are additional portable toilets located just across the road from the Pop Up Park, on the corner of Watton St and Duncans Road.

You'll also find public toilets in Werribee Train Station and on the corner of Watton and Bridge Street.

Alcohol

A licensed bar will operate during Friday Night Live but at all other times, the Pop Up Park is an alcohol-free zone.

BYO alcohol is not permitted.

Smoking

Smoking is not permitted in the Pop Up Park.

Outdoor Cinema Screen

The Outdoor Cinema uses an LED screen (rather than an inflatable screen) which means we can screen movies during daylight, at the family-friendly time of 5pm. The screen is also set above the ground for improved viewing.
Friday Night Live

Bring a picnic blanket and settle in for the summer, with all-ages concerts every Friday night including major headline acts and local talent.

Friday 18 January: Kate Ceberano, Bella Paige, Michelle Gardiner

Friday 25 January: Sam Perry, SHY, NICO

Friday 1 February: Nicky Bomba's Bustamento, Soul Chic, Lewis Pidutti

Friday 8 February: Ash Grunwald, Will Campbell, Radio 88

Friday 15 February: The Audreys, Jesse Valach,Ashleigh Watson Duo
Outdoor Cinema
Street Food Sundays

Taste your way through the world's best street food – no passport required!

Enjoy a different cuisine every Sunday from 12pm – 5pm along with live music, traditional dancing and themed kids craft.

Each Sunday will feature a new dish from Phat Franks in Station Place and three visiting food trucks.

Saturday 20 January: Americana

Saturday 27 January: Latin America
Hey Dee Ho Sessions
WBTA Makers Market

Enjoy a leisurely wander through the market stalls and pick up unique finds, art and handcrafted goods from talented locals. Add brunch or coffee and you just might have the perfect Saturday! Brought to you by the Wyndham Business and Tourism Association.

Every Saturday, 10am – 3pm

*Australia Day market 5pm – 10pm
Free Kids Workshops and Classes
Free Fitness and Come and Try Sessions
Free Craft, Workshops and Classes
Free Lunchtime Music