Date
Time
Location

Werribee City Centre, Station Place, Werribee 3030
Organiser

Wyndham City
Contact

9742 0777
Cost

FREE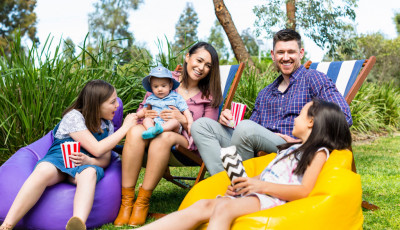 Kick back this summer at Werribee City Centre's free Pop up Park!
From 19 January to 25 February 2018, Station Place will be transformed into a buzzing summer destination, with live music, an outdoor cinema, food trucks and more.
As well as providing a green and relaxed space to enjoy over summer, the Pop Up Park will feature a free program of live music, movies and family entertainment.
Enjoy the deckchairs, umbrellas and lawn games each day from:
Monday – Thursday 9am – 5pm
Friday 9am – 10pm
Saturday 9am – 10pm
Sunday 10am – 6pm
A licensed bar will operate on Friday nights during Friday Night Live but at all other times, the Pop up Park will be an alcohol-free zone.
Download the Pop Up Park program
Friday Night Live
Saturday Night at the Movies
Street Food Sundays

Every Sunday, 21 January – 25 February
12pm – 6pm

Hello summer! Treat your taste buds with a rotating line-up of food trucks and local food vendors every Sunday in the Pop up Park. Make a date with friends and enjoy a leisurely lunch out on the lawn.

Each Sunday from 12pm – 3pm The Park Hotel will also be hosting mini Children's Farm in Station Place– so you can double your Sunday fun!

Find out what's on the menu each week at www.facebook.com/WerribeeCityCentre
Popping Up in the Pop Up Park Proudly presented by Wyndham City Arts & Culture

Let us entertain you…We've carefully crafted an eclectic set featuring poetry, performances, previews and puppets! Pop down, pop your feet up and enjoy something surprising in the Pop Up Park.

Proudly presented by Wyndham City Arts & Culture

Mondays – Music and Mics

12 Feb, 11:00am – 1:00pm: Local Legends in your Lunchtime: Pull up, settle in and eat your lunch as we treat you to the sounds of legendary local musicians.
19 Feb, 6:00pm – 8:00pm: Spoken Word Jam + Open Mic + The Caretaker: Curious about spoken word? Want to express yourself? Join local talent in a spoken word mash up of poetic lyricism mashed up with reality and a dose of honesty. Open Mic spots available – arrive early to secure!

Tuesdaylele – Ukes and Tunes!

Ukeleles… You've seen them, you've dreamed about them – but have you heard them played by the best in the biz? Every Tuesday we're bringing the uke – curated by local Ukel-lady Steph Payne with a host of guests for your uke-loving pleasure.

23 Jan, 4:30pm – 6:30pm: Ukulele Dolls
30 Jan, 2:30pm – 4:30pm: Paisley & Plaid
6 Feb, 2:30pm -4:30pm: Di Moore
13 Feb, 4:30pm -6.30pm: Zerafina Zara & Steph Payne
20 Feb, 11:30am – 1:30pm: Tues Blues

Wednesdays – Wild, Wonderful and Whimsical

31 Jan, 6:00pm – 8:00pm: Park Lounge Sneak Preview: We will tantalise your tastebuds with virtuosic divas, Vardos, spinning hula hoops, and the truly ravishing Retro Girls – all in the name of build up to the main event on Saturday 3 February from 4pm in Kelly Park.
7 Feb: The Care Taker Is In: Have you got something on your mind? A thought that keeps bugging you? A feeling that just won't go away? Sit down and relax, the Care Taker Is In. Share your cares and keep an eye out as the collection inspires artwork shared within the Park. The Care Taker is Dan Goronszy: a multi-disiplinary artist who creates unusual arts experiences that provoke big conversations about humanity and the world.
14 Feb, 12pm - 2pm and 4.30pm - 6.30pm: Valentine Love Bomb featuring Yours Truly + The Caretaker: On the day of St Valentine we will delight in the gifting of roses and love poetry to everyone, as we all deserve love every day, but especially on Valentine's Day!
Saturday 24 Feb, 11.00am – 11.30am: Dancing with Puppets: What's Mutuashi Dance? Can puppets dance? Can I dance? Find out the answer to these questions and learn how to dance Mutuashi with our friends Florence Shinaduku and Snuff Puppet Miss Kelly Boom.
Free Rhyme Time and Lego Club in the Park

Rhyme Time

23 January – 21 February: Tuesdays and Wednesday 10.30am – 11am

*Excluding Tuesday 13 February

Songs and rhymes designed for children from 1 to 3 years of age. A fun, relaxing session that supports early language, literacy and numeracy skills.

Lego Club

25 January – 22 February: Thursdays, 2pm - 3pm

Wyndham Libraries bring Lego Club to the Pop up Park – design, build and imagine with Lego!
FAQ: Weather, Seating, What to Bring

Weather
Friday Night Live, Saturday Night at the Movies and Street Food Sundays are all-weather events and will go ahead in most weather conditions, even if rain is forecast. Cancellations will only be considered if the conditions present a risk to the safety of visitors or staff. Please note that umbrellas are not permitted.  Follow www.facebook.com/WerribeeCityCentre for the latest updates.

Seating

A limited number of deckchairs and beanbags are available during daytime use. For large events – Friday Night Live, Saturday Night at the Movies and Street Food Sundays we recommend bringing your own picnic blankets and rugs, so you can get nice and comfy.

What to bring
We recommend packing for all seasons with sunscreen, hats and rain jacket. The temperature can drop quickly at night, so bring something to keep warm.

Is smoking allowed?

Smoking is not permitted in the Pop up Park.

Can I bring my dog into the Park

To keep the park clean and tidy for everyone, pets are not permitted in the Pop up Park.

Will there be dancing?

Dancing is welcome!
Getting Here

Live or work locally? Enjoy the summer weather and walk to the Pop Up Park.

Car

Public Car Parking is available close by, with three hour parking in Riverbend Car Park and Cherry Street Car Park, two hour parking in Troup/Woolworths Car Park and one hour parking on Watton Street. Note that time limits do not apply after 5.30pm.

During the six weeks of the Pop up Park, vehicle access to Station Place will remain open, with some parking still available. Please take care when parking and driving through this shared zone.

Taxi

The designated Taxi Zone in Station Place will operate as normal.

Public Transport

The Pop up Park is located next to Werribee Train Station, making it easy to get to the Pop up Park via train or bus.
Pop Up Park Competition

Competition closes 4pm Wednesday 14 February. Prize includes 1x $50 voucher to Black Seed Cafe, Werribee

Prize is not transferable for cash and is not replaceable if lost or stolen.

One competition entry per person only. Staff and family members of Wyndham City Council are ineligible to enter.

The winner will be the first randomly selected, correct entry received by the closing date.

The competition will be drawn at the Wyndham Civic Centre, 45 Princes Highway, Werribee on Thursday 15 February and the winner will be notified by phone and email.

For further details contact the Communications Team on 9742 0777.