Date
Time
Location

45 Princes Hwy,
Werribee
VIC 3030
Organiser

Wyndham City - Events Team
Contact

8734 6006
Cost

FREE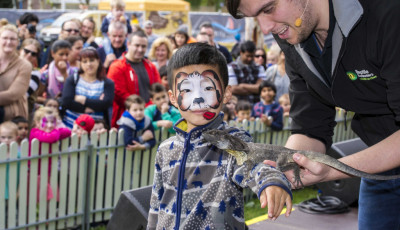 The date has been set - Wyndham City's annual Pet & Animal Expo will be back on Sunday 16 September 2018 and will be held at the Civic Centre here in Werribee from 10am – 3pm.
Each year the expo is a huge success with over 6,000 people  attending throughout the day! We are looking forward to an even bigger and better event this year.
The Pet & Animal Expo is a fun, 'family and pet' friendly day where all activities and entertainment are free; this event is one not to be missed.
Key Event Elements
Dog obedience displays and educational demonstrations
Expo of products and services for pets and their owners
Pet displays including exotic cats, dogs, budgerigars, ferrets, rabbits and more
Popular children's activities such as face painting, and reptile/ animal displays
 A variety of food trucks will be onsite with food available for purchase
This event is aimed at providing information and education about responsible pet ownership in a fun and engaging way. This event provides an opportunity for the Wyndham community to come along, meet representatives from the wide range of animal and pet organisations in attendance and learn more. A great day out with the kids and the fur kids!
What's On

With the U-Vet Main Stage featuring back to back animal entertainment and education and the Dog Arena showcasing dog obedience, and agility expect a fully packed day for every animal lover!

Don't miss all of our animal activities either such as Farmer Darryl's Animal Farm, free photo pet booth, dog wash and grooming, cat and ferret display, animal face painting as well as an array of Australian wildlife on display including, a crocodile, snakes, lizards, and dingo and wallaby.

Come hungry and enjoy a meal or treat from an array of food trucks and feel free to bring your well behaved and restrained pet along!

Be sure to plan your day to not miss any of the fun!

U-Vet MAIN STAGE

10.05am

Acknowledgment of Country

10.15am

Mayoral Welcome

10.30am

Leigh Valley Hawk & Owl Sanctuary – Birds of Prey

11.10am

THE ROOKEEPERS – Wildlife Works

11.50pm

U-Vet talk – Microchipping Exotic & Feathered Pets

12.10pm

Leigh Valley Hawk & Owl Sanctuary – Birds of Prey

12.50pm

The Mik Maks

1.30pm

U-Vet talk – Rehabilitation for Dogs

1.50pm

THE ROOKEEPERS – Radical Reptiles

2.30pm

U-Vet talk – Push Hard, Push Fast: CPR for Pets

DOG ARENA

10.20am

The Flipping Disc Dogz

10.55am

Animals 2 U – Working Dogs' Show

11.30am

German Shepherd Dog Club of Victoria

11.45am

Werribee Obedience Dog Club – Basic Agility

12.05pm

The Flipping Disc Dogz

12.40pm

Animals 2 U – Working Dogs' Show

1.15pm

German Shepherd Dog Club of Victoria

1.30pm

Werribee Obedience Dog Club – Dancing Dogs

1.50pm

The Flipping Disc Dogz – Stunt Dog Team

2.25pm

Animals 2 U – Working Dogs' Show
Sponsors

With thanks to our principal sponsor

 

 

 

 

 

 

 

This is your chance to learn more about animal behaviour and care at a vet talk on the U-Vet Main state. 

Media Partner 

 

 

 

Interested in sponsorship?

Wyndham City is home to some of the most vibrant events in the West, and part of a diverse events calendar that keeps the coast, country and the city buzzing with life for every season.

With our large and loyal community, supporting local events provides invaluable marketing opportunities that have a proven capability to increase business stimulation and perception.

To celebrate our community's diversity, Wyndham City Council's Events team dedicate themselves to producing unique and engaging events that appeal to the broader community. We welcome all expressions of interest from businesses who wish to get involved with these events and utilise this unique platform to express their own brands.

We can offer a range of marketing and sales opportunities throughout our Event Season to maximise your partnership, with one of our set packages or a tailored package designed to suit your business needs.

For more information please contact the Events team on 9742 0902 or events@wyndham.vic.gov.au
Event Map
FAQs

Tickets: This event is a FREE event, no ticket is required.
Food: There is plenty of delicious food and beverages for purchase or you may bring your own
Water: A water trailer will be available for fresh drinking water throughout the event.
Travel: There is limited free parking on site and event traffic management systems will be in place. Please follow all road and traffic detours and respect traffic and parking officer's instructions to ensure you safely arrive and exit the event. There is a free shuttle bus running from Wyndham Vale and Werribee train stations, view the timetable. Sorry no pets are permitted to board the bus
Pets? Yes! This event is aimed at providing information and education about responsible pet ownership in a fun and engaging way. Please be aware that there will be many animals on site including a large number of dogs. If you are bringing your dog you must ensure it is kept on a leash at all times and well socialised in respect to other animals, people and crowds. Dogs cannot be left unattended tied to poles or fixtures. All owners must pick up after their dog on the day, bins and bags will be available on site. The cat hub will be located indoors and no dogs will be permitted inside the building, Council's legislative services will offer a dog minding service on the event day.
What to Bring: Picnic rug, a hat, sunscreen, jacket, and a poncho for inclement weather. Please note there are limited shaded areas – so come prepared for rain, hail or shine.
First Aid: A first Aid service will be onsite, please refer to the event program map for the location, you can pick up a map from the Information Marquee when you arrive.
Toilets: There will be toilets located both indoors and outdoors including accessible facilities.
Lost Children: We encourage you to pick up an ID wristband at the Information Marquee so we can quickly reunite you should you lose your child during the event. All lost children will be brought to the Information Marquee.
ATM: An ATM will be onsite for the duration of the event.
Drones: Are not permitted at the event.
Alcohol: This is an alcohol free event.
Photographer: A Council photographer will be taking some happy snaps on the day! We'll share these on our social media and websites. If you're camera shy and don't want your photo taken, just let our photographer and/or our event staff know on the day!

Share your photos on the day... simply upload to your Facebook or Instagram account and #experiencewyndham

For any questions regarding this event please email events@wyndham.vic.gov.au
Exhibitor and Food Vendor Applications

Applications for the Pet & Animal Expo 2018 have now closed. For more information or to register your interest for future events, please contact the Wyndham City Events team on events@wyndham.vic.gov.au or 9742 0902.
Wyndham Pet & Animal Expo – Hamper Facebook Competition

Terms and Conditions

Terms and conditions for entry into the draw for a chance to win one of two Wyndham Pet & Animal Expo Hampers:  1st Prize: Pet Hamper valued at $660, 2nd Prize: Pet Hamper valued at $195

This competition is run by Wyndham City Council ('Council') in the state of Victoria, Australia only.
By entering the competition, you agree to accept these terms and conditions of entry ('conditions').  If your entry does not comply with these conditions, it will not be valid for entry into the draw.
Entry is restricted to residents of the Wyndham municipality who are aged 18 years or over.  If you are aged under 18 years, you must obtain your parent or guardian's consent to enter this competition. Council may require you to provide proof of residency and/or age. Council staff, Councillors and their immediate families are not eligible to enter.
To enter the competition you must share a photo of your pet on the Pet & Animal Expo Facebook event competition post between 5pm 3 September and 5pm 9 September 2018.
Each valid entry will go into a draw to win one of 2 prizes on offer:

1st Prize: Pet Hamper valued at $660
2nd Prize: Pet Hamper valued at $195
Contributors to the hampers are: Eden Hills Pet Cremation, Furbaby Bits, Designer Paws, Oscar and Rufus, Smooch Ya Pooch, Melbourne Portrait Studio, Habitat Pets and Mediback Pet Insurance.

The competition winner will be drawn on 10 September 2018 at Council offices and will be notified by Facebook comment on the same day. The winner is then responsible for Facebook messaging the Werribee City Centre Facebook page to organise collection of their prize
The competition winner must collect prizes from Wyndham's Pet & Animal Expo on Sunday 16 September, 10am – 3pm at the Wyndham Civic Centre, 45 Princes Highway, Werribee from the Information Marquee.
The competition winner must have proof of identification at time of collection.
If a winner cannot be contacted by 13 September 2018, Council may opt to conduct a redraw and the next valid entry drawn will be the winner.
If a prize has not been claimed by 23 September 2018 the winner will be deemed to have surrendered the prize and Council may opt to hold a further draw to award the unclaimed prize.
Council's decisions are final and no correspondence will be entered into.
Prizes are not transferable, exchangeable or redeemable for cash.
Council accepts no responsibility for late, lost, misdirected, invalid or corrupt entries.
You agree to Council contacting you to invite you to be photographed, and if you agree to be photographed, you consent to any such photographs being published or otherwise used by Council for future promotional activities.
Wyndham Pet & Animal Expo 2017 - Photo Gallery