Date
Time
Location

45 Princes Hwy,
Werribee
VIC 3030
Organiser

Wyndham City - Events Team
Contact

8734 6006
Cost

FREE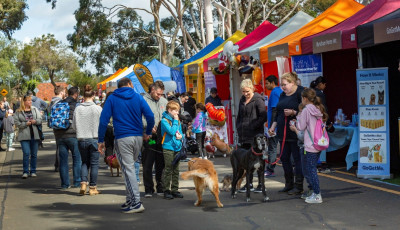 Wyndham City's Pet & Animal Expo for 2020 has been cancelled.
Given the ongoing impacts of COVID-19, Wyndham City has cancelled its major public events scheduled for Spring 2020, including the Pet & Animal Expo.
Council officers are currently exploring a suite of new and creative event ideas to align with COVID-19 restrictions.
While we are disappointed not to be able host these much-loved events, the health and wellbeing of the community is our first priority and we will continue to follow the latest State Government health advice and restrictions, to keep each other safe during this challenging time.
While we stay at home and practice social distancing, there are still a range of free Wyndham City programs and activities our community can enjoy online, with gardening workshops, pet story time, art classes, author talks and more at www.wyndhamtogether.com.au
If you are interested in being part of the Pet & Animal Expo in 2021 please contact events@wyndham.vic.gov.au.
Pet & Animal Expo 2019
Wyndham City's much-loved Pet & Animal Expo returned for the 12th year on Sunday 15 September 2019, with a great line up of exhibitors, shows and activities including Raptors of the City, tips for pet grooming and reptile show on the Main Stage and a canine disc performance, bar jump, sled pull, duck herding and dog agility show in the Dog Arena.