Date
Time
Location

80 Derrimut Road,
Hoppers Crossing
VIC 3029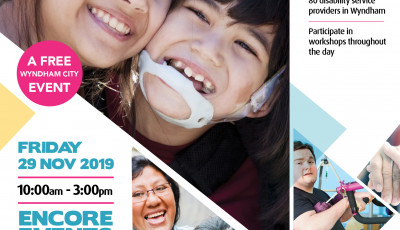 Are you a person with a disability? Are you a carer, family member, supporter or a professional?
Wyndham Disability Expo is one of the biggest disability expos in the West.
Come along and speak to over 80 local and state wide NDIS and non NDIS service providers and disability specific services in our community
Participate in information sessions throughout the day, learn about services for culturally and linguistic diverse communities, enjoy the fun activities and much more. 
No registration required. This is a free Wyndham City event.  Interpreters available upon request
Wyndham Disability Expo - Social Story
Wyndham Disability Expo - Program
TTY users phone 133 677 ask for 03 9742 0777 | Speak and Listen (speech-to-speech relay) phone 1300 555 727 ask for 03 9742 0777 | Internet relay users connect NRS (www.relayservice.com.au details) ask for 03 9742 0777 
Wyndham Disability Expo Speed Networking Session

Are you a service provider working with people with disability in Wyndham? Do you want to connect with other services from the Wyndham area?
 
Come along to Wyndham Disability Expo Speed Networking session on Friday 29 November (9am-10am) at Encore Event Centre, 80 Derrimut Road, Hoppers Crossing.

Through a series of speedy one on one sessions, you'll have the opportunity to introduce yourself and your organisation to another service provider, connect, exchange details and move on to the next provider.
Information Sessions

Take part in free Information Sessions throughout the Expo, on Friday 29 November. No bookings required, however space is limited so we recommend heading to your preferred sessions on time, to avoid disappointment.

Meeting Room 1 & 2

10:00am-11:00am
Supporting you and your family - how to gain support and respite for parents within the NDIS.
Presented by Association for Children with a Disability (ACD)  

11:00am-12:00pm
Preparing for a planning conversation
Presented by National Disability Insurance Scheme (NDIS) and Brotherhood of St Laurence (BSL) 

12:00pm-1:00pm
What does NDIS mean for me? What is a goal? And How do I Self Advocate?
Presented by Ethnic Communities Council of Victoria (ECCV) and Australian Federation of Disability Organisations (AFDO)

1:00pm-2:00pm 
Understanding Early Childhood Early Intervention (ECEI)

2:00pm-3:00pm
Supports for you Mental Health; the NDIS and other Community Options
In this workshop people will learn about the NDIS and the supports it provides along with how to get the most out of their NDIS plan.
Presented by VMIAC (Victoria Mental Illness Awareness Council)

Meeting Room 3

10:00am-11:00am 
Map Your Future; What are your goals?
Presented by Youth Disability Advocacy Service (YDAS)

11:00am-12:00pm 
Preparing for your NDIS plan review and getting the best out of your NDIS funding
Presented by Victorian Advocacy League for Individuals with Disability (VALID)

12:00pm-1:00pm
First Nation people, Understanding the National Disability Insurance Scheme (NDIS)
Presented by Brotherhood of St Laurence (BSL)

1:00pm-2:00pm
Planning for the future – Learn about the legal processes you can put in place today to ensure your wishes and rights are upheld. 
This session will cover powers of attorney and medical treatment decision making.
Presented by The Office of the Public Advocate

 

2:00pm-3:00pm 

Improving your wellbeing as a Carer

Presented by Carers Victoria
Frequently Asked Questions

Can I register as a service provider

The registrations for expo as a service provider is now closed.
You we welcome to register for the "Speed Networking Session"
Click here for further information and to register - https://www.wyndham.vic.gov.au/whats-on/wyndham-disability-expo-speed-n… 

Do I need to rsvp to attend this expo

No, registration is not required. The expo is open from 10am-3pm

Which service providers can I meet to at the expo

There are more than 80 service providers at the expo. Please visit https://www.wyndham.vic.gov.au/ for list of exhibitors

Are the service providers from Wyndham

Majority of the service providers deliver services in Wyndham.

Are the service providers NDIS registered

Wyndham Disability Expo will have service providers both NDIS registered and non-registered from across local, state and nation wide

Is the venue accessible

Yes, the following accessibility features are available at this event

 Hearing Loop available on site
Language interpreters available upon request
Personal Care Attendants available
Auslan interpreters available upon request
Chillout zone (sensory & breastfeeding area) available onsite

Is there food available at the expo

You are welcome to purchase from a range of food options available at the café or BYO.

Is there water at the expo

Yes, there is a free water filling station at the venue. Please bring a reusable bottle

Alcohol

This is an alcohol-free event

Smoking

Smoking is not permitted within the event

ATM

ATM is NOT available onsite (Eftpos available at café for food purchases)

Who can I contact for more information

Please call 03 9742 0777 or email disabilityexpo@wyndham.vic.gov.au

How can I get to the venue

The venue has a free onsite and off-street car parking. Please visit https://www.ptv.vic.gov.au/ to plan your journey by public transport

Photography/ Filming

The event will be photographed & filmed. Please advise the staff at the reception should you wish not to be photographed or filmed

First Aid

There will be First Aid services onsite

Toilets

There are toilets located at the venue including an accessible toilet

Pets

Pets are not permitted at the event, except for service animals

Personal Property

Attendees are responsible for all personal property taken into the event and must not leave bags unattended. Council reserves the right to remove any bag left unattended at the event. Please note there may be bag checks on arrival.

 
Flyers in other languages