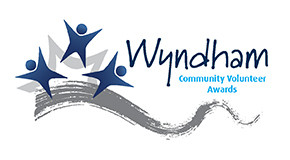 Do you know someone who has made a significant contribution to the Wyndham community?
Perhaps you know a friend, relative or neighbour who has demonstrated an act of compassion, generosity, or innovation?
The Wyndham Community Volunteer Awards and Citizen of the Year Award recognise and celebrate Wyndham's volunteers who have demonstrated an outstanding contribution within our municipality.
Nominations for the 2018 Community Volunteer Awards open on Monday 21 May 2018, during National Volunteer Week.
To register your interest, and to receive an email notification when the nominations open, please provide us with your name and email address below!
For any enquiries please contact Wyndham Events Team on 9742 0777 or email events@wyndham.vic.gov.au
2017 Community Volunteer Awards & Citizen Of The Year

Wyndham's 2017 Citizen Of The Year

Daphne Womersley, a Werribee resident who has dedicated more than 60 years of life volunteering for her community has been named Wyndham's 2017 Citizen of the Year.

Daphne was presented with the honour at a gala presentation at the Encore Events Centre in Hoppers Crossing on Friday, 18 August, 2017.

Ms Womersley has dedicated her life to helping others. Daphne's story is truly inspirational. She is a leader with the Werribee Guides, she has been a member and supporter of the Red Cross for the past 35 years and is the Treasurer of the Country Women's Association of Victoria's Werribee branch.

For the past 47 years she has volunteered with St John Ambulance and currently holds the title of Super Order for her services.

Daphne may be in her 80s, but this has not her slowed down or stopped her from giving her all to the community. She is still on call 24 hours a day, seven days a week from St John Ambulance, which shows tremendous dedication to helping others.

There's a fair chance that many Wyndham residents have benefited from Daphne's life of service, so it is hard to think of someone more deserving to receive this award.

On behalf of all Wyndham residents we would like to thank Daphne for her unwavering commitment to the community.

Ms Womersley was also presented with the Community Engagement award for her significant contribution to engaging and connecting new groups in the Wyndham community by creating a supportive and welcoming environment.

Community Hero's Awarded

With volunteering spanning many diverse fields such as Community Health & Wellbeing, Sport & Recreation and Culture, Arts & Tourism, each of the volunteers were honoured for their dedication to the Wyndham community. Category winners included:

Community Health & Wellbeing Award - John Campbell

John Campbell's commitment is all about making sure that people, particularly the young and vulnerable receive better chances in life. John organises weekly BBQs for school students, hands out food donations to homeless people, and even grows vegetables to share with the community to ensure people don't go hungry! He is also the local fix-it man with a global outlook, who organises repairs of laptops, bikes and motorised scooters, which are all shared with the local community or sent overseas to people in need.

Culture, Arts & Tourism Award - Shirley Cameron

Shirley shares her love and enthusiasm for roses and birds, by volunteering at the State Rose Garden, where she has volunteered weekly for over 25 years and Birds Australia, where she accompanies visitors on bird watching tours around the local area. Shirley also volunteers at the Werribee Visitor Information Centre, instilling locals with a sense of pride for the wonderful local assets and providing a wealth of knowledge for visitors to the area. 

Environment & Sustainability Award - Jeuss Polandaya

After migrating to Australia from the Philippines 7 years ago, Jeuss Polandaya has worked tirelessly to improve the local environment. He has coordinated teams of volunteers including Filipino migrants to clean up local waterways and plant thousands of trees to help protect our environment now and into the future. Jeuss is a dedicated volunteer with an immense commitment to the environment and a sustainable future.

Sport And Recreation Award - Geoff Gook

Geoff's passion and advocacy for cricket has steered the local community to create additional local clubs, building from 4 teams in 2012 to 37 teams in 2017. Geoff understands the value of sport participation to help bring people together and build an inclusive and resilient community. In particular, Geoff encourages newly arrived migrants to engage with cricket and works hard to build an inclusive environment and strong community connection through sport and recreation.

Young Volunteer Of The Year Award - Wishhasad Somawansa

At only 22 years, Wishhasad represents a new era of volunteering and has already made an outstanding contribution to the local community through his commitment to the local SES. As Deputy Controller of Operations, Wishhasad has an innate ability to calm people in times of distress and despair. He understands the value and importance of this essential volunteer based organisation, and regularly spends his weekends maintaining the SES trucks, training new volunteers and being on call for any local emergency.

Community Group Award - Wyndham ANZAC Project Volunteers

This group of dedicated volunteers are committed to ensuring the sacrifices made by over 350 soldiers who served in World War 1 from the Wyndham area are never forgotten.  Based at the Plaza Library, these volunteers meticulously research and record the biographies of our ANZAC soldiers and are creating a historical reference, educational tool and social service to ensure their stories live on in perpetuity.

Congratulations to all our volunteer award winners for 2017.

If you know a local volunteer hero who is making a significant contribution to the Wyndham community, nominate them in the 2018 Community Volunteer Awards.  They could be Wyndham's next Citizen of the Year!
2017 Community Volunteer Awards
Questions? Contact Us!

If you have any questions about the 2017 Community Volunteer Awards, please contact the Events team on the below information: