The Winter Street Party will return to Watton Street on the eve of the winter school holidays on Friday 28 June, 4pm – 9pm.
Expressions of interest are now open for businesses to participate in Winter 2019! 
Last year more than 30 local businesses got involved in this community event, which brought more than 6,500 people into the city centre to create a buzzing, carnival atmosphere.
It's free for businesses to get involved and we can help bring your ideas to life. Business activities will be promoted via event marketing, including social media and printed programs. Last year's social media campaign had a reach of 500,000 with strong engagement and you can be part of this too!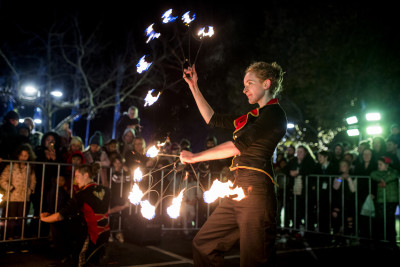 Expressions of interest close 5pm on Friday 3 May.
Here's some ideas on how your business could be involved…
Winter Workshops and Activities
Short activities and experiences of up to 15 minutes are a great way to bring people into your store and showcase the expertise and knowledge of your business in a fun way.  How about 'glow in the dark' nail polish sessions, how to style your winter outfits or art and craft activities for kids?
Street Eats and Winter Dishes
It's cold, it's dinner time and people are looking for warming winter fare! Grab and go items always work well so that visitors can stay on the move.  How about a tasty twist on a classic hot chocolate?  Or a unique treat like S'mores?  Or snack size items of your top-selling dishes, so that they can try an array of different flavours on the night?  
Winter Wonderland
Window displays, discounts and value adds are all great ways to entice visitors in to your business. Promotions on winter are great options for drawing visitors into your retail store. Imagine extending your businesses out onto the footpath for the evening for all of the passing foot traffic to see?
Would you like to discuss your ideas or need some help in bringing them to life?
Email the Vibrant City Centres Team, Wyndham City: 
werribeecitycentre@wyndham.vic.gov.au and a member of our team will be in contact.