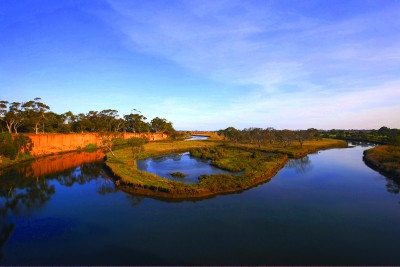 Wyndham City has a number of strategies, plans and policies that inform our programs and outline our strategic directions in regards to environmental sustainability.
Flood Management Plan 2018

The Wyndham City Flood Management Plan 2018 outlines roles and responsibilities and describes, at a high level, Council and Melbourne Water's key flood management activities.

The overarching goal of this plan is to contribute to reducing the risk and impacts of flooding on the local communities. It identifies flooding hotspots and flood risks as well as achievable actions to improve flood management in the municipality. The plan also promotes collaboration and information sharing between agencies.

The Flood Management Plan align with the Port Philip and Westernport Flood Management Strategy 2015.
Landscape Context Guidelines

The Landscape Context Guidelines aims to assist Council, other authorities and developers to safeguard the visual, natural and cultural heritage values of urban and rural landscapes when developing precinct structure plans, planning schemes and development proposals.
Single Use Plastic Policy 2019

The Single Use Plastic Policy 2019 has been developed to eliminate Council's supply of single use plastics at events and facilities. 

Objectives include:

To eliminate single use plastic usage at Council events, facilities and buildings
To reduce the amount of litter and waste generated at Council events, facilities and buildings
To promote re-use and waste avoidance to Council staff and audiences at Council events, facilities and buildings

 

 
State of Environment Report

This 2017-2018 State of Environment Report for Wyndham City Council provides a snapshot of Wyndham's environment. Further, it promotes Council's environmental achievements and progress towards the Wyndham City Environment and Sustainability Strategy 2016-2040 targets.

This Report describes recent actions undertaken by Council and the Wyndham community to protect and enhance the natural environment and improve sustainability in Wyndham.

The City of Wyndham is located on the south-western edge of metropolitan Melbourne. Wyndham covers an area of 542km2 and features 27.4km of coastline along Port Phillip Bay, and is adjacent to the municipalities of Greater Geelong, Moorabool, Melton, Brimbank and Hobsons Bay.

Wyndham is one of Melbourne's designated growth corridors and has one of the fastest growth rates in Victoria. Wyndham's total population in 2018 was 257,028 people, with a projected population of 384,000 in 2036. This increase in population has put strain on the natural environment of Wyndham and requires ongoing investment to keep up with demands for sustainable services like water management, waste and renewables.

Wyndham is home to many significant waterways, wetlands, coastal areas and grasslands, such as the Werribee River, Skeleton Creek, the Port Phillip Bay coastline, the Truganina Cemetery remnant grassland, the Point Cook Coastal Park and the Western Treatment Plant Wetlands.

Download a copy of the State of Environment Report 2017-2018 (Summary Report)

Download a copy of the State of Environment Report 2017-2018 (Full Report)
Wyndham City Water Sensitive Urban (WSUD) Selection & Design Guidelines 2018

The Wyndham City WSUD design and selection guideline has been developed for applicants to better understand Council's expectations and ensure a uniform approach to the implementation of water sensitive urban design (WSUD) within the Wyndham municipality.

The guideline outlines Wyndham City's commonly accepted WSUD treatment assets, including:

A selection matrix to identify the appropriate asset for different situations
Key design requirements
The information to be included when submitting WSUD treatment asset designs to Council for approval.

This guideline will ensure that all WSUD treatment assets are designed to best practice standards and provide best value to the community, by considering long term asset performance, public safety, ease and cost of maintenance, amenity and integration with urban design.

Download the Wyndham City WSUD Selection & Design Guidelines 2018
Wyndham's Weed Management Framework

The Wyndham Weed Management Framework advocates the importance of increasing the awareness and capacity of the community to undertake weed control and the strengthening of inter-agency partnerships. Importantly, the Framework also highlights Wyndham City's commitment to lead by example in meeting its obligations to control weeds on land that it owns and manages.
Wyndham Coastal Management Plan Issues & Opportunities Paper

Wyndham City endorsed the Coastal Management Plan (CMP) for the Wyndham coastline on Tuesday 7 August. The CMP will guide the future planning and development of coastal land from the Werribee River to the Point Cook Coastal Park. We have just released an Issues and Opportunities Paper, an important step towards the development of the CMP.

This discussion paper explores a wide range of coastal planning issues identified by Wyndham residents and visitors during community engagement activities hosted by Council in early 2018. The Paper also discusses a range of planning, environmental management and development issues affecting the coastline identified in various strategies and legislation including:

The Victorian Coastal Strategy, 2014 Department of Environment, Land, Water and Planning, DELWP) identifies key issues that place pressure on the values of the coastal environment including natural and built assets.
The Guidelines for the Preparation of Coastal Management Plans 2017 (DELWP).
The Bay Blueprint, 2017 (Association of Bayside Municipalities) provides a framework for planning for climate change impacts in Port Phillip Bay.
Wyndham Council's Integrated Water Cycle Management Plan and Forest and Habitat Strategy

Preparation of an Issues and Opportunities paper is a requirement of DELWP under the Guidelines for the Preparation of Coastal Management Plans.

Download - Wyndham Coastal Management Plan Issues & Opportunities Paper
The Wyndham City MUSIC Software Guidelines

The Wyndham City MUSIC Software Guidelines aim to provide a local context and consistency for the application of MUSIC models on water sensitive urban design (WSUD) and stormwater harvesting projects within the Wyndham municipality.

It provides  guidance on input parameters and modelling approaches for MUSIC and requirements for MUSIC modelling submissions. This document is not intended to be used as a design manual but as a supplementary guide for local projects.